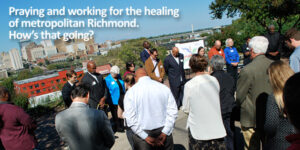 You tell us how it's going…
Now here is your opportunity to tell us what you think. Click the link. Take the online survey. You will find questions designed to gather your thoughts and feelings about Richmond Hill, its activities and its impact on the physical, emotional and spiritual health of the Richmond metropolitan area.
As you think about these questions, try to respond from the perspective of all the ways you may have interacted with Richmond Hill.
Your participation in this assessment process will provide valuable insights as to how Richmond Hill can better allocate its resources in our mission of praying and working for the healing of metropolitan Richmond. We welcome your response and your insights.
Blessings, and thanks!